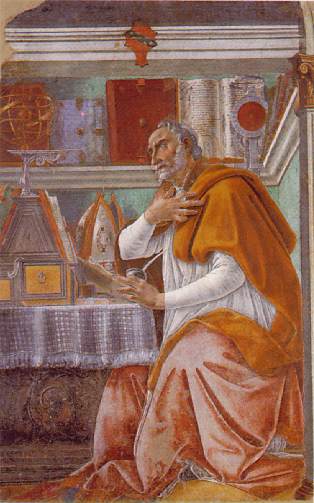 I have been a great fan of St Augustine since I studied Patrology at the Augustinianum in Rome. My
tesina
for the licenciate was on the "Rhetorical Structure of the
De Mendacio"
which was fascinating not least because the text gives a Patristic example of a moral absolute. If I ever came to do a doctorate I would try to show that it the text that so upset St Jerome and led to their falling out. St Augustine is always a great read although - sadly some priests have perhaps been put off because of the seemingly interminable readings from his sermon on the Shepherds that appears each year in the Office of Readings. I have to admit the English translation is pretty dull. If you can, read it in Latin so that you can also savour the beauty of his prose!
Anyway, I digress, as Ronnie Corbett used to say. Tonight I was in Hammersmith to give a talk to the Vocations Community affiliated to the Augustinian Community in Hammersmith, run by Fr Stefan Park OSA. It was great to have supper with the six members of the community and then to talk to them afterwards about vocation and vocations discernment. I forgot my camera, but some photographs were taken and I'll upload one when it is sent on to me.
If anyone is interested in spending a year in such a community - while continuing their day job - do get in touch. I'm sure Fr Stefan would be pleased to meet up with you.
UPDATE:
Here's the photo...