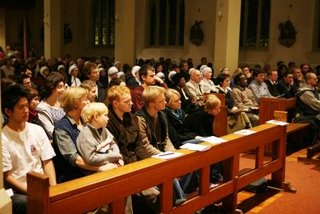 Here are a few photographs taken at yesterday's evening of recollection with Fr Benedict Groeschel. We invited Fr Benedict and the Friars to join us for supper. It was nice to have all the Friars together with their holy Founder and, apart from being a great honour for us, I hope it was also in some way a sign of our gratitude for the work of the Friars here in England.
Fr Benedict, although weakened by his accident ("Don't ever get knocked down by a car. If you're going to get knocked down do it with a truck. That way you wake up in heaven!"), was on top form. He gave an excellent meditation on the "Spirituality of Pope Benedict XVI". He had us all laughing with lots of memorable one-liners: "Scripture scholars say there were no angels at the Resurrection. How do they know? Were they there? If I was a passing angel and knew Jesus was about to rise from the dead, I know I'd be there!".
The whole event went down really well and I know his talk has inspired a lot of people.
The Church was packed. What was amazing, as you can see from the photo, is that the majority were what he called "The John Paul Generation" - i.e. young people.
Afterwards Fr Benedict patiently met and chatted with everyone before being driven home visibly exhausted. What a great man!
For readers of this blog a special treat is in store. Fr Benedict agreed to a little interview which we were able to film, just for Southwark Vocations. But because I'm away from home a lot at present, you'll have to wait for it to appear.
Thanks for the prayers for today's In-Service Training. I was very nervous and really appreciate the prayers. It seemed to go well. I post a fe pictures when I get time. Tomorrow I leave very early for Mongeham in Kent where I'm leading a Day of Recollection based on Vocation. Then Monday I'm off to Dublin for another Vocations Conference. Please God, it will quieten down after that!