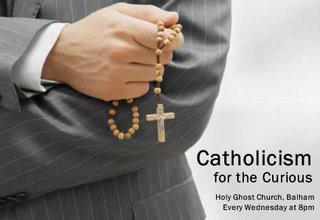 It's a great thing to be a priest but we don't always realise how our ordinary work can touch people in profound ways. This Lent we had a parish outreach project that we called 'Catholicism for the Curious'. It was given a great write-up in The Tablet by James Roberts. Part of the project was to have a website where people could leave messages on a feedback page. The mission saw many people come back to the Church and to confession. But for me this anonymous message on the feedback page means a lot:

My family and I are leaving the country next week. Before leaving I wanted to share with you the wonderful experience we had at the Holy Ghost while being in London. Around three years ago, we started to attend Sunday Mass at the HG because our daughters had to prepare for First Communion. In my first 11am masses I ended up in tears moved by the beatiful singing and amazing community so active in praying, going to confession and taking Holy Communion. After some months, my husband and I decided to stop using birth control methods and went back to confession and to receive Christ after 10 years, one of the happiest experiences in my life. My daughters took the First Communion last year and this year our four month daughter was baptised. I have fallen many times but went back to Confession not wanting to break my friendship with God. For being such wonderful and effective instruments of God I want to thank Fr Stephen, Fr Marcus, Fr Peter and the whole community of the Holy Ghost. I'll keep you in my prayers so that the Lent mission and the ones to come will bring as many blessings as it did to me and my family.
Now isn't that great! May God bless her, her husband and her family as they take up a new life abroad!